Yoga Foundations: Back to Basics – If you're a beginner on your yoga journey, haven't practiced for a while, or find yourself wanting to focus on the foundations of your practice, this yoga class is for you. Back to Basics begins to introduce fundamental postures and teaches you how to use the breath to transition between poses. Expect to feel stronger, more flexible, and have an increased awareness, both on and off your yoga mat.
Let Go and Flow ♫ –  Relaxing and energizing at the same time, this Vinyasa Flow class will leave you feeling strong, centered, and peaceful.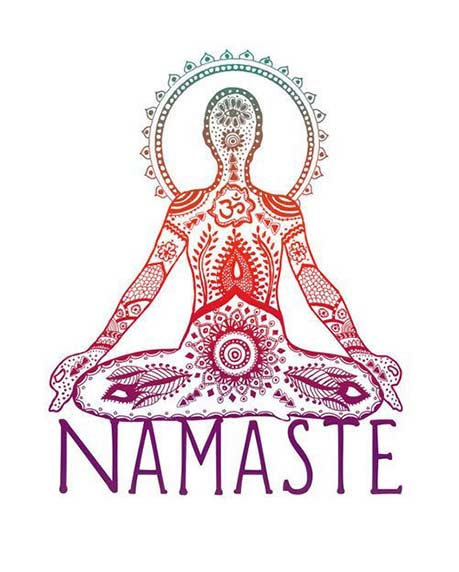 Deep Stretch Flow  ♫ – A soothing combination of stretch  & sweat, this yoga class begins with a heat building flow followed by long deep stretching.  
Live Guitar Flow  ♫ – Flow, stretch, and breathe, while you are serenaded by the smooth tunes of live guitar.    
Candlelight "Deep Stretch" Yin ♫ – Yin Yoga emphasizes a deep stretching of the muscle tissues with the help of blocks, bolsters and straps.  This lovely stretching allows your joints to decompress, open, and exhale a sigh of relief.  
Candlelight Flow ♫✰★✵ – Set to candlelight and peaceful tunes, this gentle flow class will leave you feeling warm, cozy, and ready for bed. Sweet dreams.
Rise and Shine Yoga 
♫ – Rise and shine yoga is a joyful flow class that will stretch and strengthen the whole body. Start your morning by saluting the sun!
Restorative Yoga ♫
 – Deeply relax and release tension residing in the mind and body with this replenishing and nourishing experience. You will hold passive poses for longer periods of time with the support of bolsters, blankets, blocks and straps. The perfect way to set yourself up for a rejuvenating night's sleep, easing the mind, body, and spirit.
Breathwork & Sound ॐ ♫ – Breathwork also know as pranayama, is a very powerful and ancient meditation technique that yogi's have practiced for many thousands of years. Within minutes your brain you will start to feel tremendous amounts of energy flowing through your system, and the brain will release endorphins to relax your body and calm your mind.  It is one of the most amazing tools for healing and transformation that Laughing Frog offers and we encourage you to join us.
Candlelight Sound Bath – Raise your vibration and drop into relaxation as your body gets bathed in the vibrational frequencies of Crystal Bowls, Gongs, Koshi Chimes and other ancient sound healing instruments.  Come get your tune-up!
Goat Yoga – Yoga with adorable baby goats! 
Puppy Yoga – Yoga with adorable puppies!  
Private Bodywork  – Personalize your practice with private bodywork. Includes deep tissue massage, assisted stretching & personalized injury rehab assessment. Email us to learn more. 
Kids Yoga – Fun and engaging, childrens yoga will provide your child with new tools to help them relax, reduce stress, concentrate, and deal with big emotions.  Coming soon.  Click here to join our waitlist.