Prenatal yoga Classes in Brentwood, West Los angeles, & Santa Monica
Laughing Frog Yoga is proud to offer prenatal yoga classes, conveniently located to serve the Brentwood, Santa Monica, and West Los Angeles communities.
Our Prenatal yoga classes offer a welcoming, compassionate space for women at any point in their pregnancy. No prior yoga experience is needed for this restorative, relaxing and nourishing way to reduce back ache and connect with your growing baby.  We focus on pelvic breath work and lower-body stability/strengthening. All poses are safe for mother and baby, effective for labor, and assist with recovery after labor.
FALL 2021 PRENATAL YOGA SCHEDULE
Wednesdays at 9:30am
Saturdays at 9:00am
REGISTRATION INFORMATION
1) For health and safety reasons, prenatal yoga classes are held outdoors at Gandara Park in Santa Monica

2) We highly recommend bringing props to support your mobility and safety with accessing certain poses.  Please bring:
i) Yoga Mat
ii) Two yoga blocks (Buy on Amazon)
iii) Yoga Bolster (Buy on Amazon)
iv) Blanket (optional)
v) Yoga strap (optional)
We will have a few spare blocks and bolsters on hand, but we highly recommend bringing your own.
3) Pre-registration is required to attend class.  Please reserve your spot on our schedule page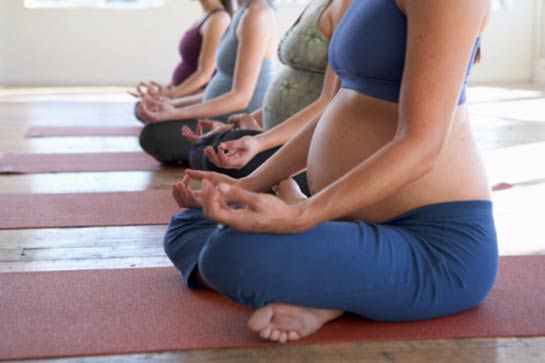 Annalisa Barrett – Prenatal Yoga Teacher
Currently a mother of 2 children, ages 11 and 8, Annalisa has completed her 500-hour yoga teacher training and Prenatal/Postnatal training program at Yogaworks. Additionally, she practices as an Associate Marriage and Family Therapist with an emphasis on clients who struggle with perinatal issues. 
Pregnancy and birth became a passion during Annalisa's first pregnancy as she educated herself about the process of labor and delivery and armed herself with all of the information she needed to go into labor with understanding and without fear. 
As a lover of fitness, she takes the post-partum recovery period seriously and empathizes with a new mother making time to help her body heal after the extreme changes it goes through. Annalisa hopes to create a community of expectant and recovering mothers who feel safe in their bodies and empowered in their decision-making as they practice so it may carry over into their labor and recovery, regardless of the type of labor they choose. 
.